OpeMed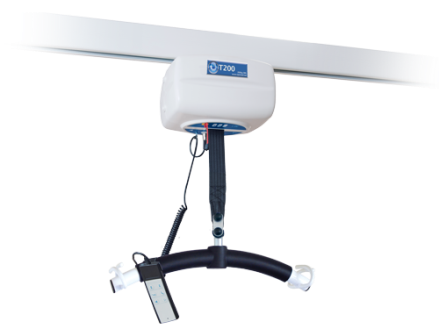 Ceiling Hoists (also known as overhead hoists or ceiling track hoists) save time, provide dignity, reduce risk of injury, provide better positioning, free up space and reduce the number of carers involved.
OT200 Ceiling Hoist - Unique Features
The award winning OT200 Ceiling Hoist is a cost effective, flexible solution that can be installed in virtually any setting.
Smallest professional use hoist on the market
Able to lift/ lower even when the tape is at an angle
Unique Gravity powered charging
No tools emergency lowering
Available with range of loop and clip compatible spreader bars
Low cost of ownership
No lights at night
Inbuilt Diagnostics
Enhanced longevity of lifting tape
Automatic Recharging - Hybrid Solution
The dynamo gravity powered charging feature provides substantially more charge than a normal charging unit. This allows the OT200 to support well over 150 lifts before needing to be returned to charge, providing carers and users with reliable and dependable equipment, as well as reducing your servicing costs and your environmental footprint.
Inbuilt Diagnostics
The inbuilt diagnostics read how often it has been used, adjust the speed up and down as well as along the track and has fault finding if there is ever a problem.
Emergency Lowering
The OT200 Ceiling Hoist has a unique emergency lowering system, that unlike its competitors does not require tools or add-ons, it simply bypasses the electronics and performs a safe and quick emergency lowering at the press of a button
Full Range of Track and Layouts
The OT200 has a wide range of track and accessories to allow the ceiling hoist to be installed in virtually any setting. Some options include full room covering systems H (X-Y) System that works in conjunction with our magnetic gate system to allow room-to-room travel, track curves for small bathrooms and flexible turntables allowing our specifiers to give you a real benefit to the carer and user. Click here to learn more about track solutions.
Free No Obligation Consultation
The OT200 Compact Ceiling Hoist is available with a number of options and has a wide range of track and accessories to allow installation in the majority of settings. We offer a full design consultancy, technical assistance and installation service to all our customers.
View the OpeMed brochure here
OpeMed (Europe) Ltd
Clockhouse
Dogflud Way
Farnham, Surrey
GU9 7UG
Tel 01252 758858
E-mail: info@opemed.net
Web: www.opemed.net
North America
OpeMed (NA) Ltd
Unit B, 124 St Regis Cr, Toronto, ON, M3J 1Y8. CANADA
Tel Toll free: 866 5719333
Tel : +1 416 633 9333
OpeMed have sales offices in the following countries: Germany, Holland, Belgium, Austria, Czech Republic, Spain, France, Italy, Canada, USA, Switzerland, Ireland, Norway, Hong Kong, Singapore, Japan, Turkey, Malta.
Click on any image to view a larger photo
OpeMed Latest Case Studies
Click on the link below to view the latest OpeMed case studies
www.opemed.net/case-studies/
OpeMed Case Study Gallery
Click on the link to view the OT200 Case Study Picture Gallery
www.opemed.net/case-study-image-gallery/