South West - North Devon - Braunton
Phoenix Retreat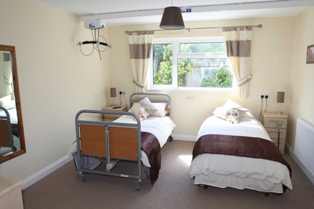 Phoenix Retreat is a 2 bedroom wheelchair friendly bungalow, situated in the picturesque village of Braunton, North Devon, well serviced with shops, restaurants, pubs, pharmacy and GP. An excellent base for sight seeing in the beautiful South West of England. The property has its own drive, a private garden with lawns, decking and BBQ area, and a sun lounge. Phoenix Retreat has been newly decorated, has central heating, large flat screen TV in lounge and bedroom, and DVD player with selection of films available. Fully fitted and well equipped kitchen. Bed linen and towels are provided. A mobile phone is available in the property for emergency use.
We pride ourselves on providing accessible holiday accommodation that is able to meet most individual requirements. Phoenix Retreat is fully accessible to people with disabilities. Qualified carers to assist our disabled guests are available if needed, and charged for accordingly. The bungalow comprises of: Level access throughout, a wet room with shower, disabled access toilet/sink, commode/shower chair, a separate bathroom with a relaxing whirlpool/spa bath, soft lighting and piped through music. An electric bath chair available if required for access into the bath.
Bedroom 1 which is the disabled access bedroom has an electric bed with overhead hoist (maximum 130 Kg/20 stone)and an orthopaedic bed. Bedroom 2 can be a twin or double bed as required. A bed settee is also available to allow up to 6 people to stay in the holiday accommodation.
For more info or to book a stay at this property please contact:
Phoenix Care At Home Ltd
Unit B
Chivenor Business Park
Chivenor
Barnstaple
EX31 4AY
Tel: 01271 816577
Email: info@phoenixholidayretreat.co.uk
Web: www.phoenixholidayretreat.co.uk
** Remember to take your own sling! ** Most accommodation providers do not provide you with a sling for hygiene reasons so remember to take along your own and be comfortable in something you are used to. Most slings are'universal' fitting but if you are not sure please contact the accommodation provider.
Have you stayed here?
If you have stayed here why not write a review for CHuC and share your experiences, good or bad, with other hoist users?
Write a review using the
form below

. There is no need to register but all reviews are moderated before being published

Submit a review

Submit a review of accommodation listed on CHuC
Reviews for Phoenix Retreat
Name: Isabel
Date of visit: 06/19
This was our second visit as we were so impressed the first time
The facilities are excellent and the owners are helpful. We had care every morning and the carers were efficient and friendly. It feels like "Home from Home"
We will be booking again for 2020.