UK Hotels - East Anglia
East Anglia - Norfolk
Park House Hotel - Sandringham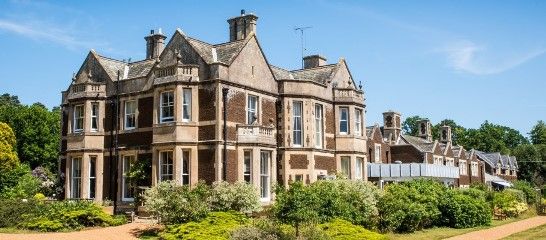 The Hotel is set in an impressive Victorian country house, within it's own grounds amidst soaring trees and rolling parklands of the Sandringham Royal Estate in West Norfolk.
Her Majesty The Queen generously made Park House available to Leonard Cheshire as a Hotel for disabled people, specifically designed and equipped to meet the needs of disabled people and their carers or companions. The hotel boasts an enviable country location, with quick easy access to the market town of King's Lynn.
For more info please contact:
Park House Hotel
Sandringham
King's Lynn
Norfolk
PE35 6EH
Tel: 01485 543000
Fax: 01485 540663
E-mail: parkinfo@leonardcheshire.org
Web: www.parkhousehotel.org.uk
Park House Hotel is 115 miles from London and good roads lead in all directions. Ample parking space is provided. King's Lynn railway station (8 miles away) is on the direct line from London King's Cross and should take approximately one and three quarter hours.
Click on any image to view a larger photo
** Remember to take your own sling! ** Most accommodation providers do not provide you with a sling for hygiene reasons so remember to take along your own and be comfortable in something you are used to. Most slings are'universal' fitting but if you are not sure please contact the accommodation provider.
Have you stayed here?
If you have stayed here why not write a review for CHuC and share your experiences, good or bad, with other hoist users?
Write a review using the
form below

. There is no need to register but all reviews are moderated before being published

Submit a review

Submit a review of accommodation listed on CHuC
---