South - Sussex
Elmer Sands, Bognor Regis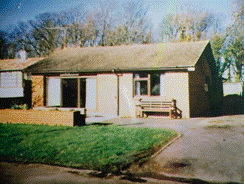 This purpose built bungalow can accommodate up to 10 people. It is centrally heated with 4 twin bedded rooms. There are 3 Adjustamatic beds and one bedroom is fitted with a ceiling track hoist. The large lounge contains a sofa bed that sleeps two. The bathroom is also fitted with a ceiling track hoist and there is a separate shower room with shower chair and commodes. More details here (MS Word document)
7A Sussex Beach Holiday Village, Bracklesham Bay, W Sussex
The chalet was purchased by the Association at the end of 2004. It has been completely refurbished and consists of one double bedded room which has a ceiling hoist and a single bedded room. There is a sofa bed in the lounge.
The chalet has a wheel-in shower room, a small kitchen with fridge, hob, oven and microwave and a dining/lounge area with a television. Outside there is a decking area with garden furniture.
Set in 65 acres of parkland adjacent to 7 miles of beach, the chalet offers a perfect place for a holiday. More details here (MS Word document)
These are owned and run by The Voluntary Association for Surrey Disabled
Voluntary Association For Surrey Disabled
Leatherhead Court
Woodlands Road
Leatherhead
Surrey
KT22 0BN
Tel 01372 841148
e-mail info@vasd.org.ukVASD Website
** Remember to take your own sling! ** Most accommodation providers do not provide you with a sling for hygiene reasons so remember to take along your own and be comfortable in something you are used to. Most slings are'universal' fitting but if you are not sure please contact the accommodation provider.
Have you stayed here?
If you have stayed here why not write a review for CHuC and share your experiences, good or bad, with other hoist users?
Write a review using the
form below

. There is no need to register but all reviews are moderated before being published